Modern Dentures in Corvallis, OR
Missing one tooth or multiple teeth? We understand that missing teeth can wreak havoc on your day-to-day life. That's why we offer a variety of denture options to help you regain a smile that looks and functions at its best. Our custom-made dentures can turn back the clock on your smile. Get in touch with our office to schedule your denture consultation!
CONTACT US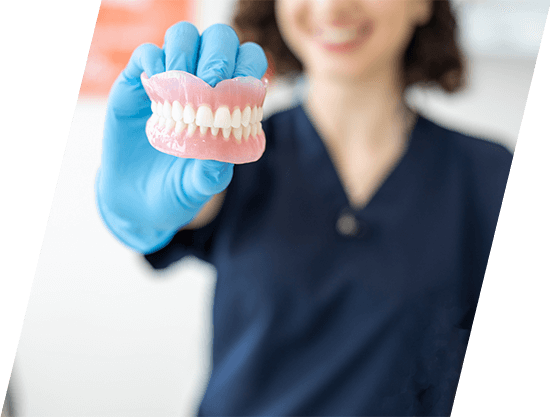 Traditional Dentures
Partial Dentures
Partial dentures are a great solution for patients who aren't missing a full arch of teeth. The partial dentures are made to fill in the gaps left behind with gum-colored bases that mimic natural gums and realistic-looking replacement teeth attached to them. Partial dentures have metal clasps that attach to existing teeth in order to keep them in place.
Full Dentures
For patients missing a full arch of teeth, we offer full dentures to replace all of their teeth using a single apparatus. Like partial dentures, full dentures also have an acrylic base that mimics the appearance of real gums. The gums have false (but natural-looking) replacement teeth attached. Our traditional full dentures fit snugly on the gumline with the help of extra-strength denture adhesives.
Implant-Supported Dentures
For a more secure fit, we can use implants to lock your denture in place. Whether you're getting your first denture or struggling with an existing piece that slips and slides, we can help! Not only can we model your denture to snap onto dental implants, but we can also place the implants and complete the entire implant process in-house so that you don't have to go to multiple dentists. With implant-supported dentures, all you have to do is simply snap your denture onto your implants and go about your day. They won't move around or budge while you're out doing the things you love.
Learn More About Implants
SCHEDULE YOUR CONSULTATION