OFFICE HOURS
Monday-Thursday: 8am-5pm
Friday: 7am-4pm
Welcome to Corvallis Dental Group in Corvallis, OR!
At our Corvallis dental office, we aim to exceed your expectations when it comes to your dental care. Corvallis dentists Dr. Jason Greyslak and Dr. Rose Greyslak are a husband-and-wife team that is passionate about creating a comprehensive, evidence-based approach to dentistry that transcends to a healthy lifestyle and a beautiful smile. With our talented dentists' wealth of knowledge and the expertise of our dedicated team, we create personalized treatment plans that improve your oral and overall health. Think of our team as your support system and go-to experts when it comes to keeping your smile in tip-top shape. From our family to yours, we invite you to visit our office and let Corvallis Dental Group give you the elevated level of care that you deserve!
SCHEDULE AN APPOINTMENT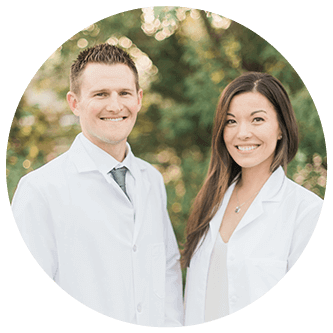 Meet the Corvallis Dentists Behind Your Smile
Our talented team is dedicated to delivering premium service that will leave you smiling. To us, you're more than just a patient: you're family. That's why we go above and beyond to create a truly personalized experience that caters to your unique needs. We wouldn't be able to provide high-quality dentistry without the help of our exceptional team. When you visit our office, you can rest easy knowing that you're in good hands!
LEARN MORE
A Higher Standard of Care
Our family-driven principles and dedication to excellence extend from our office to our technology to our treatments. We understand that your smile is important to you, and that is why we've pulled out all the stops to give you the best care possible. Our Corvallis dental office was designed with your comfort and convenience in mind, our technology is state-of-the-art, and our team is comprised of nothing but the utmost professional, knowledgeable, and friendly people out there in the world of dentistry. We've spared no expense to ensure that your smile and oral health is set for life.