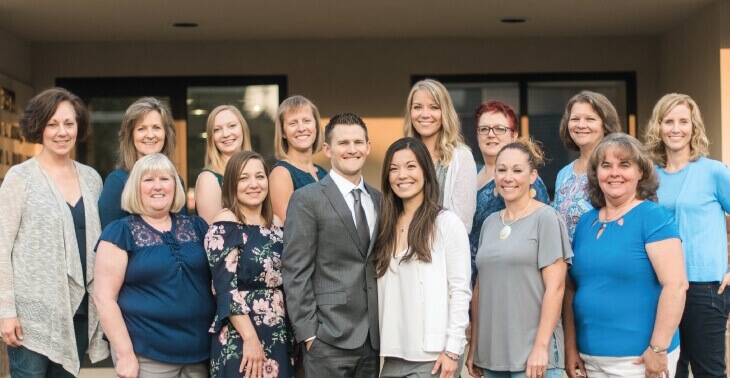 Here at Corvallis Dental Group, we are dedicated to building strong relationships with our patients and delivering high quality care that is individualized to fit their unique needs. We recognize that each of our patients has their own personal history, budget, and smile goals. Each of our team members has their unique story and role in our Corvallis dental office. Read on to learn about the compassionate members of our expert smile team!
Dr. Jason Thomas Greyslak & Dr. Rose Greyslak
Dr. Greyslak and Dr. Rose met while in dental school at the Oregon Health and Science University. Both were drawn to dentistry because they love people and helping improve their health. In their free time, Dr. Rose and Dr. Greyslak enjoy spending quality time together outdoors with their two kids and their dog, Kona, and volunteering with the Give Kids a Smile Program and Oregon Missions of Mercy.
Office Team
Kristen, our Office Manager, keeps things running smoothly! She's a huge supporter of the "Beavs".
Jessica, our Treatment & Insurance Coordinator, helps you maximize your dental insurance benefits. She is an avid hiker, runner, and explorer of all the Pacific Northwest has to offer.
Sharon, our Scheduling Coordinator, provides top-notch customer service. She also enjoys quilting and camping.
Dental Assistants
Chris, Courtney, Diana, and Hollis are our wonderful dental assistants who help us care for your pearly whites.
Chris enjoys hiking, camping, and going to the beach.
Courtney is equally content on an outdoor adventure or at home on her couch with a good book.
Diana loves taking photos, especially of her sons at their sporting events, hiking, and decorating cakes.
Hollis can often be found baking, gardening, or shopping for antiques.
Dental Hygienists
Our registered dental hygienists professionally clean your teeth and help us treat any problem areas.
Dawn enjoys fishing, camping, hunting, and hiking with her husband and two sons.
Dee is a fan of quilting, crafting, and arranging flowers.
Gail participates in CrossFit and a summer softball league.
Karlene loves traveling, especially if it is to follow her daughter as she participates in quarter horse shows.
Sydney is a third-generation Oregon native and is a proud Oregon State Beaver fan!
We Look Forward to Meeting YOU!
Now that you know our team a little better, come visit us so we can get to know you. To ask our team any questions or to schedule your next checkup and cleaning, contact our office today.
CONTACT US