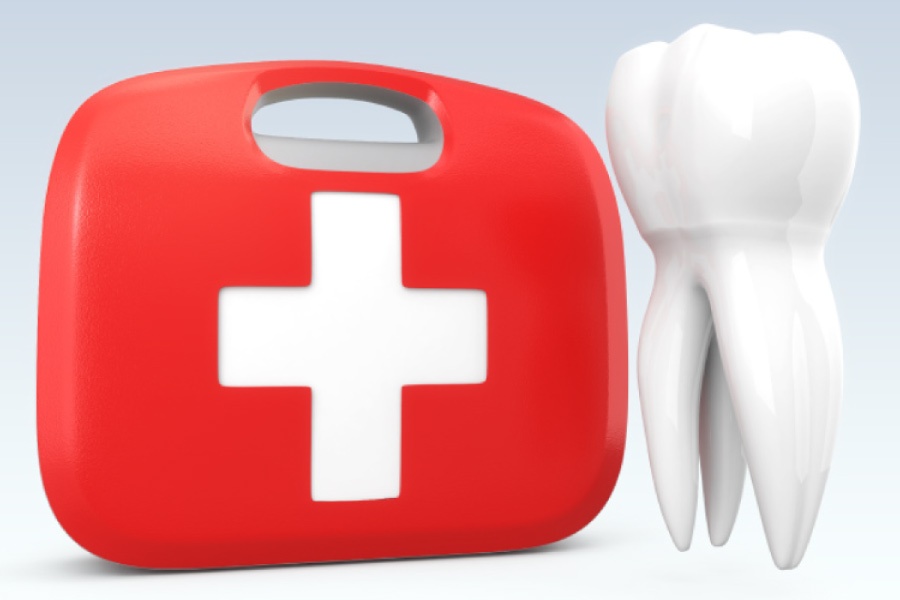 Even if you take great care of your teeth and get cleanings and exams every six months, emergencies can happen. They can happen anywhere, resulting in pain, stress, and fear. What do you do? Here's our guide on how to prepare and respond to dental emergencies.
First, know what an emergency looks like
How do you know when you need to call us? There are certain situations where getting care as quickly as possible is very important. Some of the most common emergencies include knocked-out teeth, tooth infections, and broken teeth.
A knocked-out tooth

This is probably the emergency people fear the most. If your tooth falls out, you need to act quickly. First, if you can find the tooth, pick it up without touching the roots and gently rinse it. Try to hold it in the empty socket, or, if that's not possible, put it in a cup of milk or hold it carefully inside your cheek. The key is to keep the tooth moist. Call us right away.

Tooth infection

Tooth infections can cause severe pain, jaw swelling, and abscesses on your gums. If you're experiencing any of these symptoms, it's very important to call us. Untreated infections can spread and be life-threatening. Severe decay and gum disease are common causes of infection.

Broken teeth

Small chips aren't usually considered emergencies unless they're causing pain. They will still require treatment, but not immediately. If the chip or crack is more serious, however, waiting on treatment makes the situation worse. If you chip or crack your tooth, call us and we'll decide when you should visit our office.

Other emergencies

If you're experiencing any kind of persistent dental/facial pain or bleeding, something is wrong. Give us a call and we can decide if you need to come in right away or not.
Keep an emergency dental kit close by
You can't predict when a dental emergency might happen, but you can prepare. Keep an emergency dental kit or two on hand. Your kit should contain a small container with a lid (for a tooth if it gets knocked out), gauze, dental floss, and Tylenol. We don't recommend aspirin or ibuprofen because their ingredients make it harder to stop bleeding.
Save the phone number for Corvallis Dental Group!
At our Corvallis office, we always save room in our daily schedule for emergencies. This way, we can see patients the same day they call if necessary. Drs. Jason and Rose Greyslak are here to make scary situations less frightening and provide high-quality care no matter what the issue is. Please contact us today if you have questions about our services or emergency dentistry!