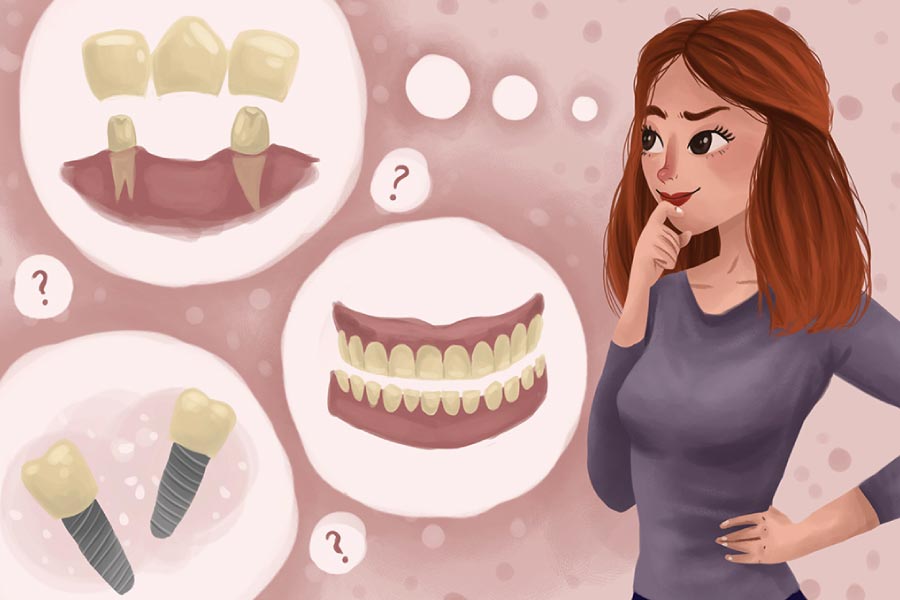 If you've lost most or all of your teeth, it might be the right time to consider dentures as a tooth replacement option. Dentures help you eat, talk, and retain your face shape no matter how many teeth you're missing. At Corvallis Dental Group, we offer multiple denture options to suit the needs of all patients. Read about the differences between full and partial dentures here. Here's what you can expect if you're considering dentures.
Full Dentures
Full dentures are designed for those who are missing all of their teeth and lack the gum and jawbone strength to consider dental implants. At Corvallis Dental Group, we create custom dentures for our patients. They are made in an acrylic base with realistic porcelain crowns to match the look of natural teeth and fit comfortably with extra strength adhesive. Dentures should be cleaned thoroughly after meals with dish soap or denture cleaner, since regular toothpaste can be abrasive on dentures. They should also be removed at night and soaked in dental solution. When cared for properly, dentures can last up to 15 years.
Partial Dentures
If you are missing multiple teeth but still have some natural teeth, partial dentures can be a good option. They are designed to look like your existing teeth and will blend in naturally. Partial dentures can be affixed to your natural teeth with metal clasps to fill in the gaps. They are very flexible and can be used to solve many different types of problems. Another solution for missing teeth if you have enough healthy teeth for support is a dental bridge.
Implant-Supported Dentures
If you have strong gum tissue and jaw bone strength, you can also opt for implant-supported dentures. Implants consist of titanium rods that fuse to the jaw bone, acting as replacement tooth roots. They can be attached to dentures to secure them into place. All you have to do is snap your dentures into place and go about your day — no need to worry about adhesives! At Corvallis Dental Group, we can complete the entire implant procedure in house, so you don't need to worry about visiting multiple dental offices for your treatment.
Affordable Dentures in Corvallis, OR
Dentures are a very affordable restorative option for those who are missing most or all of their teeth. If you have dental insurance, we recommend contacting your provider to check your coverage for dentures. We also accept other payment options, including CareCredit®. Check out our financial page to learn more! Call us directly or fill out our online contact form to schedule a consultation!